Here is a sneak peek at some of our customer's favorite things...
Fitball Seat Cushions
The Fitball Seat Cushions are the same great wedge shaped design as the Move'N Sit but in a smaller more versatile 13" size. Provides dynamic seating, allowing movement while also improving posture. Smooth on one side, bumpy on the other. Try one for in the classroom and at home during meal times or when doing homework. Wiggle seats let you move while still sitting, being safe and improving focus and attending.
Slantboards
Ideal for classroom and home use. Low profile spring clip holds paper tight. Made from high quality, lightweight, easy to care for plastic, with smooth finished edges for safety. Will not shatter like plexi-glass if dropped. Features nonslip pads on the bottom and convenient "cut - out" carry handle. The 20 degree angle is ideal for writing and reading, offering positioning benefits for the eyes, neck, shoulders, trunk, arm and hand. Optional overlay provides a more pleasing, proprioceptive writing surface which can improve handwriting by diminishing pen/pencil slippage. Slantboards now available in black (without overlay); blue with overlay or mini size in black with overlay. Overlays are also available to add to your current slantboard.
Robot Face Race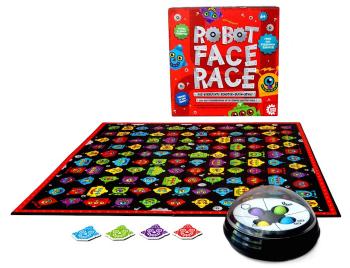 It's a race to be the first to identify and rescue the indicated Robot out of the 120 robots pictured on the board. Each shake of the Robot Identification Device indicates a different robot by the color of his eyes, nose, mouth and head. First player to find this missing robot gets to place a chip in his rescue vehicle. Five rescues and your a winner! As no 2 faces are the same, players work to sharpen their visual discrimination and concentration skills while improving attention to detail. Kids like the game so much it makes a great reward/reinforcer.
The one and only corrugated plastic tubes that make an amazing, addicting sound when pulled open and pushed together. 7 inch long, vibrantly colored pipes expand to 28" when fully expanded. Pipes can be linked together and bent to form twisted designs and marble mazes (sorry-no marble included). Great for developing hand, finger and arm strength, hand stability, bilateral coordination, motor planning and visual and auditory attending. 12 pipes to a set.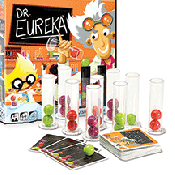 Without touching or dropping a ball, transfer the colored balls between test tubes until matching the challenge cards. Sounds easy? Physically pouring the balls is only half the challenge. First you need to develop a plan! Designed for 1-4 players.
Pencil Grip Samplers
Confused about which Grip to purchase? How about a "Grip Sampler Pack" - It includes 15 of the most popular grips, all at a discounted price. 2 packs available. Regular or large grips only.